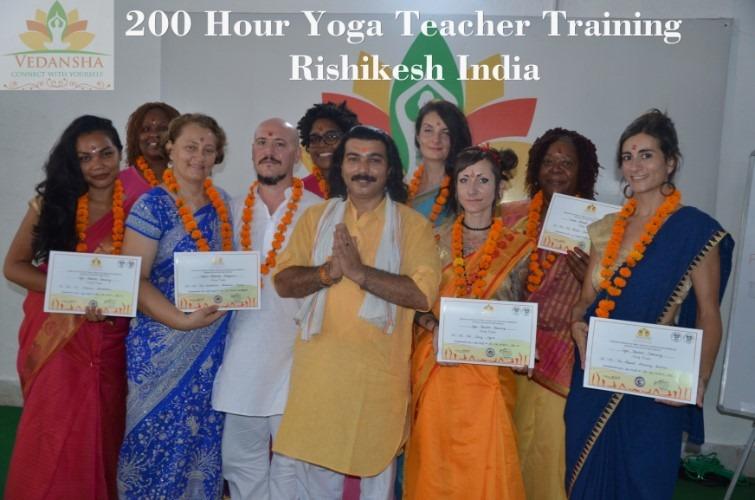 200 Hour Online Yoga Teacher Training
Yoga Teacher Training, also known as Yoga Instructor Course, lasts one month and entails 200 hours. Long-term yoga practitioners who desire to practice classic Hatha yoga intensively in a serene setting should enroll in this program. Our yoga teacher training course's curriculum is divided into halves to prepare new instructors in the asanas' specific practice and instruction methods. A practical philosophy to blend the physical practice of Hatha Yoga with traditional faith and a yogic lifestyle for yoga pupils residing in a demanding, stressful existence in the current culture makes up the other half of the teacher training course material. Therefore, this yoga teacher training retreat in the USA is not just for those who wish to become yoga instructors but for everyone looking to change their body-breath-awareness and search for a fulfilling life's mission.
Our Program-
| Duration | Study Days | Free Day | Graduation | Price |
| --- | --- | --- | --- | --- |
| 24 Days | Monday-Saturday | Sunday | Certificate Of YogaTeacher Accord. Yoga Alliance USA | 1000 USD |
| 24 Days | Monday-Saturday | Sunday | On Line Live + Pre-Recordered Classes | 900 USD |
| 24 Days | Monday-Saturday | Sunday | Online Live Classes Only | 800 USD |
Benefits Of 200 Hour Yoga TTC In Rishikesh India
Direct interaction with indian master online
Save of money for flight, meal accommodation.
Study from home or work place.
Combine work with yoga education.
Balance your body mind.
Learn yoga from origin stay in safe conditions.
Have access to classes records 24 hrs and save in own computer.
Choose suitable schedule according your requrments.
200 Hour Yoga Teacher Training Course Is Suitable For
Beginner, intermediate, advanced practitioner.
For people who have desire to learn yoga deeper
For meditation, fitness & wellness instructors
For medical and education staff
What You Learn In 200 Hour Online Yoga Teacher Training Course
Asanas according Hatha and Ashtanga Style.
Adjustment Alignemnt with Iyengar Style.
Pranayama, Meditation.
Yoga Philosophy Mantra.
Yoga Anatomy.
Yogic Nutrition.
Elements of Ayurveda.
Asana Alignment and adjustment.
Yogic cleansing (Shatkarma).
Teaching Methodology.
Practicum Sequencing.
200 Hour Online Yoga Teacher Training Schedule In Rishikesh 2022-23
| Course | Starting Date | Ending date | Booking |
| --- | --- | --- | --- |
| 200 Hour Online Yoga Teacher Training Course | 02-January-2023 | 28-January-2023 | Booked |
| 200 Hour Online Yoga Teacher Training Course | 02-February-2023 | 28-February-2023 | Booked |
| 200 Hour Online Yoga Teacher Training Course | 02-February-2023 | 28-February-2023 | Apply Now |
| 200 Hour Online Yoga Teacher Training Course | 02-March-2023 | 28-March-2023 | Apply Now |
| 200 Hour Online Yoga Teacher Training Course | 02-April-2023 | 28-April-2023 | Apply Now |
| 200 Hour Online Yoga Teacher Training Course | 02-May-2023 | 28-May-2023 | Apply Now |
| 200 Hour Online Yoga Teacher Training Course | 02-June-2023 | 28-June-2023 | Apply Now |
| 200 Hour Online Yoga Teacher Training Course | 02-July-2023 | 28-July-2023 | Apply Now |
| 200 Hour Online Yoga Teacher Training Course | 02-August-2023 | 28-August-2023 | Apply Now |
| 200 Hour Online Yoga Teacher Training Course | 02-September-2023 | 28-September-2023 | Apply Now |
| 200 Hour Online Yoga Teacher Training Course | 02-October-2023 | 28-October-2023 | Apply Now |
| 200 Hour Online Yoga Teacher Training Course | 02-November-2023 | 28-November-2023 | Apply Now |
| 200 Hour Online Yoga Teacher Training Course | 02-December-2023 | 28-December-2023 | Apply Now |
| 200 Hour Online Yoga Teacher Training Course | 02-January-2024 | 28-January-2024 | Apply Now |
NOTE:- If 2nd is Sunday then class will be start on 3rd.
Includes-
Internal valid Certificate of Yoga Teacher of Yoga Alliance USA
Theoretical and practical skills.
Study materials
Optional For Extra Payment
shipping of Certificate per DHL (ariund 50 USD)
Time Table (Timing Depend On Your Time Zone)
Asana hatha/ashtanga, vinyasa.
Pranayama.
Meditation.
Yoga Philosophy.
Matra & Sanskrit.
Yoga anatomy & Physiology.
Asana alignment & Adjustment.
Practicum & teaching methodology.
About 200-Hour Yoga Training Program
Our 200-hour Yoga teacher training program offers thorough, theoretical, and hands-on instruction to advance practitioners' practices and transition them from students to teachers. Our TTC graduates leave as assured instructors with a firm foundation in teaching who are prepared to start their careers. In addition to honing their teaching skills, trainees get a complete knowledge of conventional and modern yoga practices, including asana practice, philosophy, physiology, adjustments, mantra chanting, chakras, anatomy, Ayurveda, mudras, pranayama, and meditation.
Our program walks you through the fundamentals needed to improve and enhance your yoga practice and confidently instruct students. From the beginning phases of teaching a class to direct it with comfort and expertise, our experienced team of teachers will help you.We think that the capacity to deliver a competent class with top-notch abilities after completing your training must be the primary goal of a teacher training course for a trainee. We welcome those who have the deliberate aim of becoming instructors and developing their profession to join our training since it is rigorous and the program is outcomes centered. To guarantee that trainees graduate with the skills needed to launch their careers when they return home and sustain a disciplined approach, our curriculum contains many teaching hours, practicums, and teacher-oriented lectures.
Style of yoga?
This yoga teacher training program focuses on studying the fundamentals of classical Hatha yoga, which emphasizes strengthening the spinal architecture at the center of every asana rather than speed and flow, which could harm the spine. Instead of copying a primary series or generic asana as seen on publication covers, traditional hatha yoga focuses on Chakras, the subtle energy body, to tailor the asana practice for every person, predicated on their physical and mental prerequisites. This is done without taking into account the constraints of joints.
Pranayamas and Yoga Nidra are always included in the traditional Hatha Yoga classes taught in our Yoga Teacher Training program. In our ashram, another significant distinction between contemporary and traditional hatha yoga is that we emphasize steadiness (sthira), using proper alignment at the eight major joints and breathing techniques to prolong asanas. We discourage students and aspiring yoga instructors from practicing quicker flows while neglecting the fundamentals of joint and spinal anatomy to increase cardiac activity and fire up muscles without providing enough prana (breath) to the heart and muscles.
This 200-hour yoga teacher training program in the USA includes all the fundamental methods and abilities to help you begin the honorable journey of professionally imparting your practical understanding of yoga, both physically and intellectually. Yoga practices and philosophy have a cleansing impact on revitalizing your body, mind, and intellect, as well as helping you grasp the meaning of life and learn how to live sanely and peacefully in this crazy modern world, even if you have no interest in teaching yoga.
Who May Attend?
Having been regularly practicing yoga for at least two years.
Physically capable of handling four hours of practice per day. Test your abilities by performing 10 Sun Salutations in a row and ensuring that you can comfortably hold the fundamental poses for at least 30 seconds.
Mentally pumped to attend two theory lectures per day and take a test!
It would help if you were sufficiently spiritually oriented to get up early for meditation and emotionally prepared to endure any emotional ups and downs this training may bring.
Enthusiastic about challenging and questioning your ideas about your identity, the meaning of life, and cultural norms, and eager to rise above the narrow judgments of culture.
Not being pregnant, suffering from recent surgery, persistent sickness, or taking medicine for a severe psychological disorder.
COURSE DETAILS ASHTANGA YOGA
Overview and background of the Ashtanga Vedansha system.
The Ujjayi pranayama, bandhas, and Drishti are the four pillars of Ashtanga yoga.
Standing asanas, seated asanas, and ending asanas comprise the entire series of modified Ashtanga yoga.
The practice of modified Ashtanga yoga consists of three 90-minute classes each week.
Workshops for alignment and adjustment last two hours each day. In this lesson, you will learn how to do each asana with perfect alignment and adjust it as needed.
How to apply props to different positions.
Practice teaching: The main focus of this workshop is developing teaching skills for ashtanga yoga and Vedansha flow classes.
From the very first day, you would begin to experience teaching, moving from one-on-one settings to bigger groups.
Senior teachers would keep an eye on you and direct you.
YIN YOGA, PARTNER YOGA, and VEDANSHA FLOW
Morning practice of intermediate Vedansha Flow for 90 minutes, three times a week.
Intermediate Vedansha Flow practice lasting 60 minutes, three times a week in the afternoon.
In the course, there were two Yin classes.
The course includes two to three partner yoga sessions.
The basics and the art of sequencing.
Acquiring knowledge on how to design your own Vedansha flow classes.
Receiving and giving comments on both your own and other people's classes.
Beginning on day two and continuing every other day, student teachers put their lessons into practice. This entails several opportunities for practicing teaching and feedback.
PRANAYAMA
A description of pranayama
Breath, pranayama, and prana
The anatomy and science of pranayama
The spiritual relevance of pranayama and the pranic body.
In this course, you would practice Nadi Shodhana, kapalbhati, bhastrika, ujjayi, bhramari, and Surya bheda pranayama types.
How to do and instruct pranayama
MEDITATION
Introduction, purpose, and definition of meditation
The study of meditation.
meditation's impacts on the psyche and the body.
Ways to meditate.
Ways to instruct meditation.
Chakra meditation, Kundalini meditation, Om meditation, Nada meditation, Mantra meditation, Antara Mauna, Chidakash Dharana, Vipassana, and insight meditation will be addressed.
PHILOSOPHY
Yoga's origins, philosophy, and way of life
Jnana Yoga, Raja Yoga, Bhakti Yoga, Karma Yoga, Ashtanga Yoga, and Patanjali Yoga Sutra are the four different types of yoga.
The eight Ashtanga Yoga limbs
The yogic way of life.
Obstacles on the yoga journey and ways to get through them
The significance of sangha and Satsang
three guna concepts: Satva, Rajas, and Tamas.
A yoga teacher's and practitioner's code of conduct.
ANATOMY
Our functional anatomy classes ensure that students comprehend the primary muscles and bones used in asana practice and the health advantages and risks of each. A significant focus is placed on analytical training, muscular and skeletal anatomy, as well as individual physical limitations and differences. The foundation of the alignment lessons is a specifically created practical anatomy class. Before attending the course, we strongly advise you to complete this module. These topics are covered in our anatomy module:
The essentials
Movements of the body's primary joints, the skeletal system, the muscular system, the connective tissue, and the neurological system
Biological anatomy: movement-related ideas from functional anatomy and physiology.
Yoga practice utilizing anatomical principles:
Aspects of yoga postures/li>
Healthy movement patterns
Differences between muscles and the skeleton, including compression, tension, proportion, and orientation theory.
Study the other body parts of the foot, knee, hips, spine, and shoulder.
Teaching Methodology, Practice, And Technique.
Our 200-hour yoga teacher training program will assist you in strengthening your relationship with your thoughts and feelings, giving you the confidence to lead lessons from the heart. Our yoga teacher training program is a hands-on education meant to prepare you to teach yoga to students of all skill levels with assurance and effectiveness.
Ashtanga Yoga: How to conduct lessons based on the Ashtanga Primary Series.
Sequencing guidelines for a Vedansha Flow class
How to build custom series
Instructions for a Vedansha flow class
The practice of teaching There will be numerous chances to practice teaching. You will begin teaching one-on-one students immediately, moving up to teaching bigger groups as the course closes.
Your peers and teachers will give you feedback on your teachings to help you hone your teaching techniques and develop your own distinctive teaching voice and style.
You will also learn demonstration principles.
Teaching methods and desirable traits in a yoga instructor.
Voice volume, ground presence, and security.
Hands-on modifications
The morals of a good yoga teacher, among other things.
By the end of the course, you will be competent to lead mixed-level open yoga sessions, Vedansha flow classes, and Ashtanga yoga, classes.
Focus and Goals of the 200-Hour Yoga Teacher Training in the USA
The 200-hour yoga teacher training in the USA will acquaint you with all facets of the practice, its background, and its effects today. Throughout the course, you will pay attention to your body, mind, and breath and experience the therapeutic effects of yoga asana, pranayama, and meditation. You can cleanse your body and calm your racing mind by adhering to the yoga principles and diet. A lot of emphases is placed on proper alignment, teaching methods, and scientific justifications of postures, advantages, and risks.
How Your Personal Life And Career Will Benefit From This 200-Hours Yoga Teacher Training In the USA
This in-depth 200-hour yoga teacher training in the USA promotes profound change, boosted self-esteem, and improved mental clarity. You will master the yoga asanas about their balancing and strengthening properties and gain a basic understanding of yoga philosophy and spirituality. Pranayama (daily breathwork), a variety of meditation practices, Dhyan (dialectical meditation), and a thorough knowledge of yogic food, cleansing, and ritual can help you connect with yourself and develop into a competent yoga teacher.
In both individualized care and small groups, your practice, awareness, and yogic insight, as well as your whole experience, will be improved.
Knowing more helps you better understand people's minds, conflicts, and pain and steer clear of self-conflicts and misunderstandings.
You can change your attitude and adopt a yoga teacher's code of ethics, thanks to the complexity of the training.
Relationships are improved when you are more in touch with yourself (partner, family, friends)
You may teach yoga worldwide and build a career with the respected 200-Hour Yoga Alliance Certification.
You could work anywhere at any time as a yoga instructor, have the freedom to travel, and earn a living by teaching what you love.
WHY SELECT OUR ACADEMY?
Yoga Alliance USA: International Yoga Certification
After completing this online yoga teaching credential recognized worldwide, you will be qualified to teach yoga in any country.
Top-Notch Training
We provide:
The Most Affordable Certifications.
Allowing you to become a part of the 1500+ student.
Daily expanding yoga community.
Current Course Curriculum
Well-organized course material that complies with Yoga Alliance USA requirements. You can earn extra money from the convenience of your home with the help of this online course.
Highly Skilled Yoga Instructors
Trainers have more than ten years of industry experience, in-depth subject knowledge, and flawless physical practice.