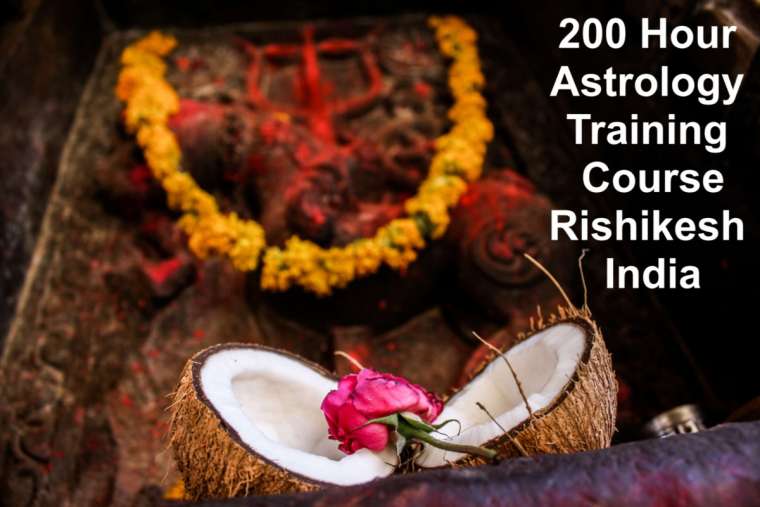 200 Hour Vedic Astrology Training Course
200 Hour Vedic Astrology Training course is one of the most interesting courses among all vedic science. Vedic Astrology is known as Jyotish, relies more on the Sidereal ( according to the Stars ) positions of the Planets, just as one sees them in the Sky, against the positions assigned to few relatively fixed Stars. This Ancient system of Indian Vedic Astrology is thus scientific in Nature and employs many Complex Mathematical Calculations to arrive an astute Astrology Predictions and Prophecies.
Vedic Astrology is an ancient Indian Science that focused on the understanding of planets movements, stars and their influence on the humans life. It is connection of Zodiac, time, star, plants and it's combination. According to Vedic Astrology there are 12 Zodiac Signs, 9 Planets and 12 Houses. As DNA is individual, same the combination of mentioned previously subjects is individual by every person and reflects on his life.
Depending on when a Person is Born, the 12 Signs are distributed among the 12 Houses and 9 Planets are placed in Various Houses of birth charts.
To make possible the correct analysis and interpretation people used to draw special chart that called "Kundli".
The Configurations of the Planets and Stars at the moment of birth, past karmas will predict and indicate the life of this person, strengths, weaknesses, bad and good things. There is no any magic or extra human powers to perform it. It is a logical mathematical calculations. Everyone can be trained for that.
Our Program-
Duration
Study Days
Free Day
Graduation
Price
27 Days/26 Nights
Monday-Saturday
Sunday
Certificate Of Vedic Astrologer
124268 INR (1500 USD) In Twin Shared Room

140837 INR (1700 USD) In Private Room
Benefits Of 200 Hour Astrology Training Course In Rishikesh India
you will be able get standard knowledge of vedic astrology
you can add  vedic astrology in your yoga class or wellness, healthcare consultation
you can better understand  yourself, know how to improve your life and prevent negative situations
learn astrological remedies to help others
meet new friends to share your experience
200 Hour Astrology Training Course Is Suitable For
What You Learn In 200 Hour Astrology Training Course
Pranayama, Concentration practice
Sanskrit & Mantra
Mandala & Yantra
How to create astrological natal map
Important characteristics of planets and zodiac sign
Know your own horoscope and understand the problem
Interpretation of important combinations
200 Hour Astrology Training Course Schedule In Rishikesh 2022-23
| Course | Starting Date | Ending date | Booking |
| --- | --- | --- | --- |
| 200 Hour Astrology Training Course | 02-January-2023 | 28-January-2023 | Booked |
| 200 Hour Astrology Training Course | 02-February-2023 | 28-February-2023 | Booked |
| 200 Hour Astrology Training Course | 02-March-2023 | 28-March-2023 | Booked |
| 200 Hour Astrology Training Course | 02-April-2023 | 28-April-2023 | Booked |
| 200 Hour Astrology Training Course | 02-May-2023 | 28-May-2023 | Booked |
| 200 Hour Astrology Training Course | 02-June-2023 | 28-June-2023 | Apply Now |
| 200 Hour Astrology Training Course | 02-July-2023 | 28-July-2023 | Apply Now |
| 200 Hour Astrology Training Course | 02-August-2023 | 28-August-2023 | Apply Now |
| 200 Hour Astrology Training Course | 02-September-2023 | 28-September-2023 | Apply Now |
| 200 Hour Astrology Training Course | 02-October-2023 | 28-October-2023 | Apply Now |
| 200 Hour Astrology Training Course | 02-November-2023 | 28-November-2023 | Apply Now |
| 200 Hour Astrology Training Course | 02-December-2023 | 28-December-2023 | Apply Now |
| 200 Hour Astrology Training Course | 02-January-2024 | 28-January-2024 | Apply Now |
| 200 Hour Astrology Training Course | 02-February-2024 | 28-February-2024 | Apply Now |
NOTE:- If 2nd is Sunday then class will be start on 3rd.
Includes-
Certificate of Training in Vedic Astrology
Theoretical and practical skills.
Maala (string of beads) energized by our Guru Ji Yogachariya Dr. S.K.Pandey, PhD (Yoga & Naturopathy).
14 nights accommodation.
Wi-Fi.
3 times of yogic nutrition, beverages.
Study materials.
Cleansing Kit
Yogic Shatkarma sessions
T-shirts (1) with symbolic of school.
1 excursion in Himalaya.
1 short aura check up.
1 ayurvedic massage
Optional For Moderate Payment
Pick up and drop.
Other ayurvedic procedures.
Ayurvedic doctor conculatation.
Number of excursions more than mentioned above.
Detailed Aura check-up with providing of written report about Aura statement, disturbances in Aura if they are present, supporting methods and treatment advices of naturopathic specialist (individual plan of asana postures, pranayama, herbs, meditative practice).
Detailed horoscope assessment.
Extra night of accommodation.
Check In : 13:00 Pm | Check Out:12:00 Pm
Accompanying and supporting
during time of staying in the Institute, help provided 24 Hours.
| | |
| --- | --- |
| 06:00 – 06:30 | Wake Up And Cleansing. |
| 06:30 – 07:00 | Shatkriya And Herbal Tea (Yogic Cleansing With Jala Neti (Special Techniques Of Nose Cleansing) |
| 07:00 – 08:30 | Vedic Rituals |
| 08:30 – 09:30 |  Pranayama: Breathing Exercises |
| 09:30 – 10:30 | Beakfast: Special Yogic Menu. |
| 10:30 – 11:30 | Astrology Theory Class |
| 11:30 – 12:30 | Mantra & Sanskrit |
| 13:00 – 14:00 | Lunch |
| 14:00 – 15:00 | Free Time. |
| 15:00 – 16:00 | Astrology Practical Class |
| 16:00 – 17:30 |  Free Time |
| 17:30 – 18:30 | Yoga Nidra/ Guided Meditation: Guided Relaxation Practice, Meditation And Concentration |
| 18:30 – 19:30 | Dinner. |
| 19:30 – 22:00 | Free Time. |
| 22:00 – 06:00 | Sleep. |
Astrology Course Teaching Plan
Astrology theory and practical skills
What is Vedic astrology?
Special terminology
12 signs and ascendants
12 houses and their characteristics
Nine planets and their functions (aspects of planets)
Understanding of exaltation and debilitation
Planets and their influence on houses
Practical understanding of planets' positions in the chart
How to read the horoscope: primary skills
Influence of planets on our daily life
Dasha periods and their influence
Transit of planets and its role
Malefic and benefic planets and their relation to houses
Enemies and friends among the planets
Trikona in houses
Retrograde planets
Dosha: important aspects and basic level (kalsharp, manglik dosha)
Nakshatra (star): role and influence
Chandra Kundli or moon chart
Phases of the moon, Ketu and Rahu nodes
Divisional charts
Karakatwas
Yogas in chart: concept and examples
Transit and their role in chart
Important combinations
Methods of calculating longevity
How to choose a partner according to horoscope
Timing a marriage
Guiding principles for judgment of a horoscope
Casting annual horoscope
Casting month horoskope
Casting daily horoskope
Therapy aspects: mantra, pooja, color
Stones and their roles
Donations and their importance
Yoga-Philosophical Aspects:
Human Life: Meaning & Aim of Life.
Yoga – Introduction / it's origin & development.
Introduction of Patanjali's Yoga-Sutras.
Limbs of Ashtanga Yoga – Yama, Niyama (social and personal rules and regulations) Asana (physical posture), Pranayama (breathing techniques)
Concept of three bodies and it's role in yoga practice
Introduction in Karma, Raja Yoga. Meaning, Types, role in yoga
Kosha and it's role in Meditation & Pranayama
Concept of 5 Koshas
3 Nadis, Ida, Pingala, Sushumna. Their role in practice
Chakras, general concept & role in daily life
Panch-Klesha (Five Causes Of Pain & Miseries) / causes of succsess and failure in Yoga
Earth, Water, Fire element affirmation in sutras
Samkhya Darshan, Vedanta Darshan
Nadis & chakras, general concep
What is Kundalini energy, ways of activation
Kundalini & Chakra
Concept of Gunas
Prakriti & Purusha
Discipline of Yoga student
Obstacles in the path of yoga
Yoga Practical Aspects:
Asana (beginner, intermediate and advanced level):
Natural Relaxation Asana.
Natural standing Asana with External Rotations.
Forward bending Asana.
Backward Extensions.
Spinal Twisting Asana.
Inverted Asana.
Balancing Asana.
Surya-Namaskara.
Meditation Asana.
Thunder-Bolt (vajrasana) Group Asana.
Lotus (Padmasana) Group Asana.
Prenatal Yoga-Asana Practical Aspects
Asana special adapted for conception and pregnancy preparation
Bending postures
Relaxation poses
Standing Postures
Sitting postures
Supine postures
Stretch postures
Surya-Namaskar
Meditation Asanas
Pranayama & Mudras
Introduction to Pranayama.
Basic Pranayama Techniques & Benefits (Abdominal breathing, Preparational breathing, Kapalabhati, Nadi Shodana with/without retention, Ujjayi breathing, Bramari, Bhastrika, Shitali, Shitkari, Surya Bheda & Chandra Bheda, Ujja).
The pranic body.
Parana and lifestyle.
Breathe, health and pranayama.
Breathing and life span.
Sitting Positions for Pranayama
Kriyas (Body Cleansing Methods): (Neti, Kapalabhati, Trataka, Shanka Prakshalana)
What is mudra and bandha
What is Ashwini Mudra, its role in energy body
Dyana, Ajali, Prithvi, Varuna, Shakti, Gyana, Chin, Shambhavi, Khechari Mudra, Hansi mudra, Vayu mudra, akash Mudra, Shunya Mudra, Surya mudra, Jalodarnashak mudra, Apan mudra, Pran Mudra, shankh mudra, Apan Vayu Mudra, Ling Mudra, Dhyan Mudra, Lotus Mudra)
Moola, Uddyana Bandha, Jalandra
.Shatkarma (concept, aim, safety, performance)
Obstacles in Pranayama practice
Meditation
Meditation Practice (OM Meditation, Breath awareness Meditation, Trataka, Yoga Nidra, Sound Meditation).
Planets meditation
Mantra
Mantras with correct pronunciation, writing, explanation and their practical applying for vedic rituals
Sanskrit
Introduction, alphabet, how to read important phrases
Sanskrit mantras for planets
Power of Sanskrit Mantra and it use as a remedy
Communication Methodology
Principles of explanation of vedic astrological chart