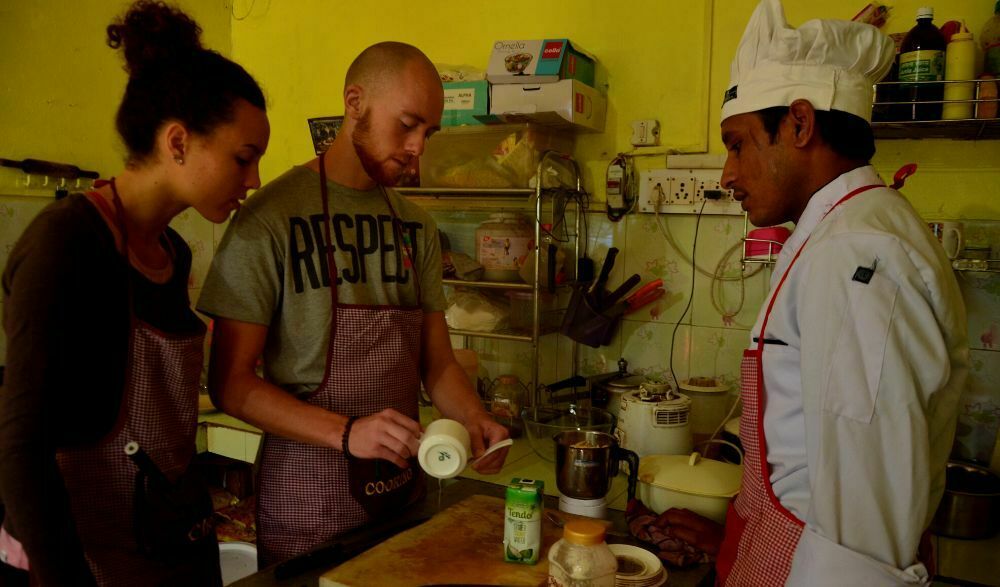 8 Days Ayurveda Course In Cooking in Rishikesh
8 Days Ayurveda Course in cooking is a unique opportunity not only to learn new recipe but learn healthy lifestyle.  The principles of Ayurvedic cooking can help to make your meal more balanced that will help to maintain a good health.  "We are what we eat" many people heard about it.But not much understand the sense of it. The ancient vedic masters knew that  all what we used to eat  belongs to the earth element. As much better combination of food is, as much balanced, stable, healthy  person is.Ayurvedic cooking starts with the planning of the meal according to season, age, dosha constitution, digestive fire, continues with the food choices, spices and atmosphere in which meal is taken.
Our Program-
Duration
Study Days
Free Day
Graduation
Price
8 Days/7 Nights
Monday-Saturday
Sunday
Certificate Of Attendance
33511 INR (To 430 USD) Shared Room.

37408 INR (To 480 USD) Private Room.
According to the dosha (constitution) meal can be divided in Vata (air), Pitta (fire), Kapha (bile, mucous).
"vata" people – are thin, quick, dry, often feel cold, easily get depressed, constipation, anxiety, sleep disorders, the need required more grains, oils, salt a little spice in their diet. Their meal should be well nourished. They should avoid much salads, raw meal, dry fruits, cold drinks. Their food should be warm and cooked.
"pitta" people -people of hot nature, with strong digestive fire, can eat and digest almost everything. They need more raw vegetables and food which are only mildly spiced. Hot, spicy food will lead lead to a skin problems. Large salads, mushrooms, grains, raw vegetables are good for them
"kapha" people -those who tend to be overweight, they are very slower in actions. thinking, decisions- they get benefit from lighter foods such as vegetables and salads and hot, spicy foods. Sweet, heavy, too oily food can lead to disturbance of this dosha, further weight gain and diabetes mellitus. People with a kapha nature should avoid all sweets, dairy, nuts, and most grains such as wheat and rice. However, grains such as quinoa and millet can be taken, buckwheat, salads are also beneficial.
Ayurvedic meal is different from yogic and is not considered as complete vegetarian. But because of most popularization of ayurveda through yoga (that is veg) most part of ayurvedic cooking advertised as vegetarian. We are also following vegetarian and vegan tradition that's way in our course we offer only vegetarian and vegan cooking.
When planning the meal all six tastes should be considered. The six tastes are:
Sweet
Sour
Salty
Pungent
Bitter
Astringent
The sweet taste provides the bulk of the meal and is usually found in grains, dairy, nuts, root vegetables, fruits and sweets.
The sour taste is found in condiments such as yogurt or lemon juice.
The salty taste is provided by salt, usually added at the table.
Spices provide the pungent taste, for the fall-winter seasons consider using cinnamon, ginger, cardamom, pepper and clove to provide the heat in the dishes.
Greens typically provide the bitter taste and may be served alone or included with dal or vegetable dishes. Astringent taste is a drying quality found in many vegetables and beans,lentils or dal.
What You Will Learn In Ayurveda Course In Cooking?
basic principles of ayurvedic dosha constitution
how to choose receipt according to dosha constitution
20 main cooking spices and how to use them in cooking
how to choose spices according to dosha
how to order the tastes in meal for breakfast, lunch, dinner
how to cook for particular age groups
you will get hands-on training and will be able to cook ayurvedic meal yourself
how to support common diseases with ayurvedic nutrition
8 Days Ayurvedic Course In Cooking Is Suitable For
Beginners & intermediate students
For people who want to learn deeply ayurvedic nutrition
For wellness and health practitioners who want to bring variety in their consultations
Starting Dates Of 8 Days Ayurveda Course In Cooking In Rishikesh
The Course starts every day whole year around except of weekends!
Includes-
Certificate of attendance
Theoretical and practical skills
Maala (string of beads) energized by our Guru Ji Yogachariya Dr. S.K.Pandey, PhD (Yoga & Naturopathy)
7 nights accommodation
Wi-Fi
3 times of yogic nutrition, beverages
Study materials
Cleansing Kit
T-shirts (1) with symbolic of school
1 excursion in Himalaya
1 short aura check up
1 ayurvedic massage
Optional For Moderate Payment
Pick up and drop.
Other ayurvedic procedures.
Detox ayurvedic herbal program
Modern automatic Hydrocolontherapy session
Ayurvedic doctor conculatation.
Number of excursions more than mentioned above.
Detailed Aura check-up with providing of written report about Aura statement, disturbances in Aura if they are present, supporting methods and treatment advices of naturopathic specialist (individual plan of asana postures, pranayama, herbs, meditative practice).
Detailed horoscope assessment.
Extra night of accommodation.
Check In : 01:00 Pm | Check Out : 12:00 Pm
Accompanying and supporting
during time of staying in the Institute, help provided 24 Hours.
| | |
| --- | --- |
| 06:00 – 06:30 | Wake Up And Cleansing. |
| 06:30 – 07:00 | Shatkriya And Herbal Tea (Yogic Cleansing With Jala Neti (Special Techniques Of Nose Cleansing), Pooja (Mantra Recitation & Fire Ceremony Purification). |
| 07:00 – 08:30 | Ayurvedic Breakfast Cooking (Hands On Practice) |
| 08:30 – 09:30 | Pranayama: Breathing Exercises. |
| 09:30 – 10:30 | Beakfast: Special Yogic Menu. |
| 10:30 – 11:30 | Ayurveda Cooking Theory Class |
| 11:30 – 12:30 | Ayurveda Lunch Cooking ( Hands On Practice) |
| 13:00 – 14:00 | Lunch |
| 14:00 – 16:00 | Free Time/Therapy Time |
| 16:00 – 17:30 | Ashtanga Vinyasa/Hatha Yoga (Theory & Practice): Number Of Physical Postures According To Study Program. |
| 17:30 – 18:30 | Ayurveda Dinner Cooking (Hands On Practice) |
| 18:30 – 19:30 | Dinner. |
| 19:30 – 20:30 | Special Event/Free Time |
| 20:30 – 22:00 | Free Time. |
| 22:00 – 06:00 | Sleep. |
Ayurveda Course in cooking Teaching Plan
Ayurveda
Tri Dosha Concept (Vata, Pitta, Kapha), its connection with nutrition.
Explanation of Pancha Mahabhuta – five elements.
Explanation of Sapta Dhatu – five body elements.
Explanation of Srotas – body channels and their role in digestion.
Explanation of Ama – toxins and it's influence on digestion.
Explanation of Agni – digestive fire and it's influence on digestion.
Explanation of Prakriti – constitution.
20 Main ayurvedic herbs for cooking and their qualities
Six main tastes and how to combine them during the cooking
Postdigestion and role of ayrurvedic spices
Ayurvedic food compatibility
Menu planning
What is pranic food, how to find and prepare it
Healthy lifestyle with food habits
Main ayurvedic vegan & vegetarian recipes
Ayurvedic dishes for different health issues – when & what
Healthy eating habits according to season
Pranayama & Mudras:
Introduction to Pranayama.
Basic Pranayama Techniques & Benefits for Mediatation (Neti, Kapalabhati, Nadi Shodana).
The pranic body.
Parana and lifestyle.
Nadi and their role in Meditation.
Breathing and life span.
Kriyas (Body Cleansing Methods): (Neti, Kapalabhati, Nadi Shodhana)
Mantra In Ayurvedic Cooking
Mantras with correct pronunciation, writing, explanation and their practical applying in Ayurvedic cooking
Mantra before starting to take food. Purification mantras, energizing and balancing mantras for cooking.
Asana
Natural Relaxation Asana, some stratching Asana
Meditation Asanas
Forward bending Asana.
Backward Extensions.
Spinal Twisting Asana.
Inverted Asana.
Balancing Asana.
Surya-Namaskara.
Thunder-Bolt (vajrasana) Group Asana.
Lotus (Padmasana) Group Asana
Meditation
Meditation Practice (OM Meditation, Breath awareness Meditation, Yoga Nidra, Sound Meditation, Breath awareness meditation).