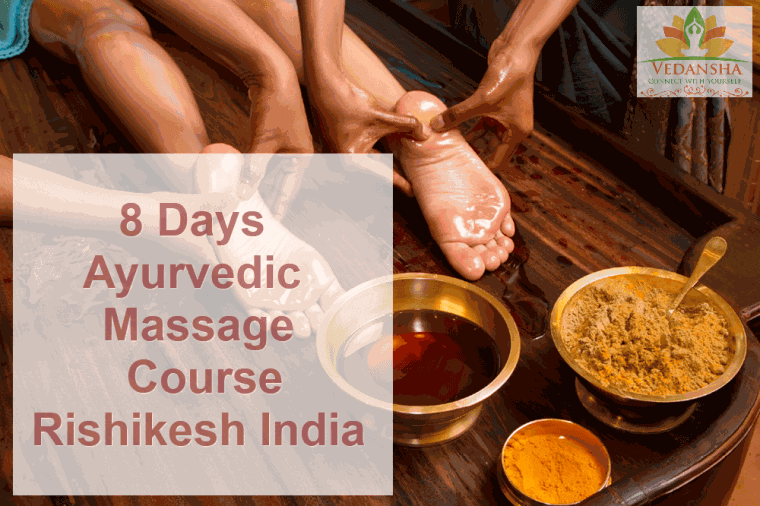 8 Day Ayurvedic Massage Course  in Rishikesh
Ayurveda is the world's oldest medical system and lifestyle concept. In Sanskrit  "Ayur" means "Life" and "Veda" means "science". In spiritual scriptures, we can find ayurvedic texts more than 5000 years old. Ayurveda is a science of life and healthy well-being. It not only cures diseases but works on the prevention, and maintenance of physical, mental & social balance.
We offer the Best ayurvedic massage course in Rishikesh.
The theory of Ayurveda same to yoga is based on 5 elements (Pancha Mahabhuta), and 7 Tissues (Saptu Dhatu). These theories define body constitution  (dosha) and the way of therapeutic treatment (herbs, massages, diet, asana, pranayama, meditation, mantra).
This course will help you to understand the basic of Ayurveda herbal medicine and its application in daily life. Ayurveda works not only on the physical but on the energy body as well. As we know disease appears firstly in the energy body and then after that in the physical body as well. By application of Ayurveda, we can prevent the development of diseases.
What Makes Our Course Different From Others?
You can find plenty of different courses in Rishikesh in Ayurveda massage. We are the Institute of Vedic science and our approach is always based on scientific research with a long year of experience. We will not only blindly teach you how to touch clients' bodies and apply firm pressure to the skin surface.
Our goal is this- you will understand how to choose for the client massage and relaxation techniques, how to organize and create a space for massage, how to adjust relaxation, how to communicate with the client during a massage, hands position, and alignment, how to find acupressure and marma points, how to apply oil, how to finish the massage, how to perform post-massage body warm, how to increase massage effect after massage.
Do not use Ayurvedic medicine to replace conventional care or to postpone seeing a health care provider about a medical problem. Ayurveda can be used and advised before, in parallel, or after allopathic medicine treatment.
Our Program – 8 Days Ayurvedic Massage Course in Rishikesh
Duration
Study Days
Free Day
Graduation
Price
8 Days/7 Nights
Monday-Saturday
Sunday
Certificate Of Ayurvedic Massage Course
37142 INR ( 450 USD) In Double Shared Room,

41268 INR ( 500 USD) In Private Room
The Vedansha Insitute of Vedic sciences and alternative medicine is accredited by International Yoga Alliance (USA) and the Alternative medical council Calcutta (India) and offers 8 days Ayurvedic Massage Course in Rishikesh India
Benefits Of Ayurvedic Massage Course in Rishikesh
detoxify and cleanse the body channels
boosts the immune system
helps to maintain a good health
helps to support disease treatment
helps to relieve stress
improves peripheral blood circulation
Increases body awareness
Increases vitality and rejuvenates
promotes healthy skin
8 Days Ayurvedic Massage Course Is Suitable For
Beginners & intermediate students who want to learn ayurvedic massage techniques.
For people who can not complete the whole 200 Hour course at once
For people who already learned yoga and want to learn deeper Ayurvedic massage
What You Learn In 8 Days Ayurvedic Massage Course
Ayurveda theory & practice
Hands Alignment
Ayurvedic massage therapy
Concept of essential oils in massage therapy
Herbs and Oils for massage and their qualities
Mantra used for massage therapy
Ayurvedic Nutrition helps to get better effects from the massage
Connection of Meditation and Ayurveda
and get important information about your aura problems (chakra imbalance) Dates in 2018
8 Days Ayurvedic Massage Course in Rishikesh Schedule
We start every week on Monday the whole year around
Includes-
Certificate of ayurveda massage
Theoretical and practical skills.
Maala (a string of beads) energized by our Guru Ji Yogachariya Dr. S.K. Pandey, Ph.D. (Yoga & Naturopathy).
7 nights accommodation.
Wi-Fi.
3 times yogic nutrition, beverages.
Study materials.
T-shirts (1) symbolic of school.
1 excursion in Himalaya
1 ayurvedic massage
Optional For Moderate Payment
Pick up and drop off.
Other ayurvedic procedures.
Ayurvedic doctor conculatation.
A number of excursions are more than mentioned above.
Detailed Aura check-up with providing of a written report about Aura statement, disturbances in Aura if they are present, supporting methods, and treatment advice of naturopathic specialist (the individual plan of asana postures, pranayama, herbs, meditative practice).
Detailed horoscope assessment.
Participation in other yoga classes
Extra night of accommodation.
Check In : 01:00 Pm | Check Out : 12:00 Pm
Accompanying and supporting
during the time staying in the Institute, help is provided 24 Hours.
Time Table – Ayurveda Massage Course in Rishikesh
| | |
| --- | --- |
| 08:00 – 09:30 | Wake Up And Cleansing. |
| 09:30 – 10:30 | Breakfast: Special Yogic Menu. |
| 10:30 – 11:30 | Ayurveda Massage Theory |
| 11:30 – 12:30 | Ayurveda Massage Practice |
| 13:00 – 14:00 | Lunch |
| 14:00 – 15:30 | Free Time |
| 15:30 – 16:30 | Body Anatomy & Alignment |
| 16:30 – 17:30 | Free Time |
| 17:30 – 18:30 | Yoga Nidra/ Guided Meditation: Guided Relaxation Practice, Meditation And Concentration. |
| 18:30 – 19:30 | Dinner |
| 20:30 – 22:00 | Free Time. |
| 22:00 – 06:00 | Sleep. |
Teaching Plan
Asana:
Natural Relaxation Asana, some stratching Asana
Meditation Asanas
Forward bending Asana.
Backward Extensions.
Spinal Twisting Asana.
Inverted Asana.
Balancing Asana.
Surya-Namaskara.
Thunder-Bolt (vajrasana) Group Asana.
Lotus (Padmasana) Group Asana.
Pranayama & Mudras:
Introduction to Pranayama.
Basic Pranayama Techniques & Benefits for Mediatation (Neti, Kapalabhati, Nadi Shodana).
The pranic body.
Parana and lifestyle.
Nadi and their role in Meditation.
Breathing and life span.
Kriyas (Body Cleansing Methods): (Neti, Kapalabhati, Nadi Shodhana).
Mantra In Ayurveda
Mantras with correct pronunciation, writing, explanation and their practical applying in Ayurvedic healing.
Mantra before starting the treatment. Purification mantras, energizing and balancing mantras
Ayurveda Theory
Human & Health – ayurvedic and allopatic approaches.
History & Development of Ayurveda massage.
Introduction of Yoga-Sutra related to Ayurveda.
Tri Dosha Concept (Vata, Pitta, Kapha).
Explanation of Pancha Mahabhuta – five elements.
Explanation of Sapta Dhatu – five body elements.
Explanation of Srotas – body channels.
Explanation of Ama – toxins.
Explanation of Prakriti – constitution.
20 Main ayurvedic herbs and their qualities
Different types of massage, indications and benefits
Essential oils, qualities, indications, application
Ayurveda Practical Skills:
Oil massage (Abhyanga)
Face Massage (Mukabhyanga)
Head Massage (Shiroabhyanga)
Udwarthanam (Powder Massage)
Garshana (Ayurvedic lymph massage)
Pizhichil (Lukewarm oil application)
Sirodhara (Oil application on the head)
Ksheeradhara (Milk Treatment)
Nasya and Akshitarpana (eyes and nose oil treatment)
Kateevasthi (local oil treatment)
Choornapindaswedam (herbal powder bolus fomentation)
Anatomy Of Massage And Hands Alignment
Introduction to muscular and skeletal system and their function
Biomechanical theory massage
The maximal range of movements
Safety technique in massage
Common mistakes in massage performance
Correct performance of massage techniques & adjustment.
Meditation:
Meditation Practice (OM Meditation, Breath awareness Meditation, Yoga Nidra, Sound Meditation, Breath awareness meditation).