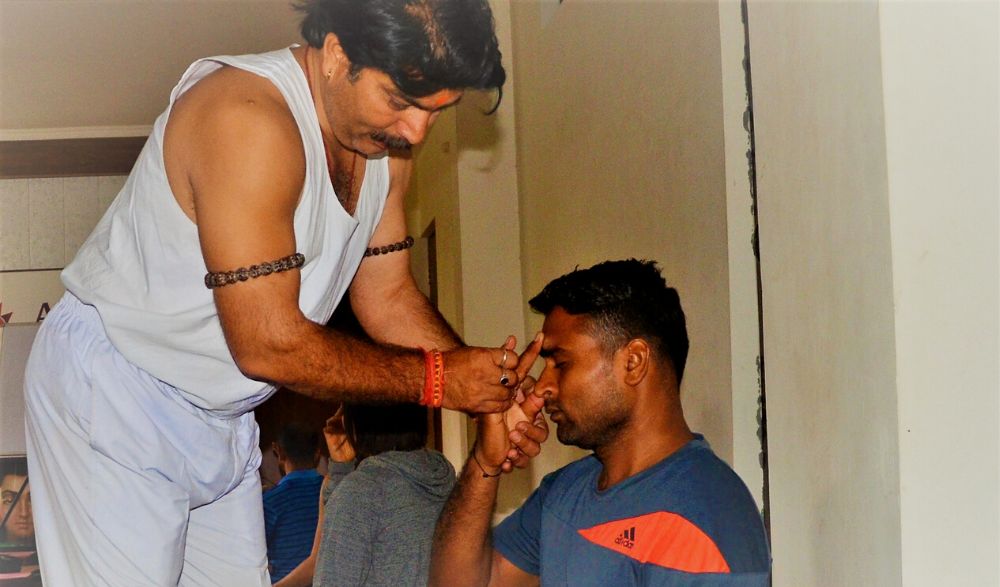 800 Hour Yoga Therapy Teacher Training
800-Hour Yoga Therapy Teacher Training is in the process of accreditation. If you wish to apply for the Yoga Therapy course you can start from the 300 Hrs program. Please consult us at vedanshayoga@gmail.com if you have any further questions.
800 Hour Yoga Therapy Training Course is a unique course that prepares highly qualified yoga practitioner that is different from simple yoga instructor according to the standard of IAYT (International Association of Yoga Therapy).
Who Is Yoga Therapist?
A yoga therapist is a person who got certified according to a competition of particular specific education and can perform the appropriate application of teachings and practices of asana, pranayama, meditation, mantra, and lifestyle changes in a therapeutic context to support a consistent yoga practice that will increase self-awareness and engage the client/student's energy in the direction of desired goals.
What Is A Goal Of Yoga Therapy?
The goals of yoga therapy include eliminating, reducing, or managing symptoms that cause suffering; improving function; helping to prevent the occurrence of underlying causes of illness; and moving toward improved health and well-being.
What Allowed To Do For Yoga Therapist?
According International Association of Yoga Therapists there are some limitations in practice of certified yoga therapist. Here you can see what allowed to do for Yoga therapist and what not
https://cdn.ymaws.com/www.iayt.org/resource/resmgr/docs_Certification_ALL/docs_certification/scopeofpractice/2016-09-01_iayt_scope_of_pra.pdf
Our Program- 800 Hour Yoga Therapy Teacher Training(Total Duration – 2 Years)
Course Design
Parts
Place
Pre-requests
Module I

Residential

Yoga Therapy Foundation
Vedansha Retreat Center, Rishikesh India
Completiton Of 200 Hours Yoga Teacher Training Course Yoga Alliance Certified

1 Year Of Teaching

1 Year Of Self Practice

Module II

Residential

Yoga Therapy Master
Vedansha Retreat Center, Rishikesh India
Competition Of  Level I, Can Be Done Together With Level I Or Separately
Module III

Residential

Yoga Therapy Practicum

Yoga Therapy Practicum

At Your Community Place, Should Be Done Within Rest Of Months According Teaching Program

Internship In Rishikesh

Competition Of  Level I, II,
Duration
Study Days
Free Day
Graduation
Price
Level I
31 Days
Monday-Saturday
Sunday
Module I Participation Certificate
3000 USD
Level II
27 Days
Monday-Saturday
Sunday
Module II Participation Certificate
2100 USD
Level III
31 Days
Exact Days Mentioned In Schedule

Monday To Saturday

Sunday
Certificate Of Yoga Therapist After Successful Exam
2000 USD
Benefits Of Yoga Therapy Teacher Training :
new opportunity in career
new level of yoga classes with more individual way of health support
learn more than 200 different diseases, it's pathology, physiology, applied asana, pranayama, meditation, mantra support
work more individually with clients and support their health issues
become not only simple yoga teacher but wellness & health consultant
use yoga therapy methods to support your health and prevent sickness in your body
be expert in treatment of scoliosis, kyphosis, lordosis and different types of back pain
know which herbal therapy should be used by headache, cough, fatigue, depression
learn how to prevent cold, flu, high blood pressure, diabetes with yoga methods
800 Hour Yoga Therapy Teacher Training Syllabus
When you finish Level I of the 800 hr training, you will also qualify for a Yoga Alliance RYT 500 Yoga Teacher. To get Yoga Therapist certification you will need to continue education in Level II & III programs.
Level I+II divided in Modules:
1. Muscle-skeletal disorders (spine, neck, hips, knees, shoulders) & Respiratory diseases
2. Gastrointestinal disorders and Cardio-Vascular system disorders
3. Nervous and urogenital systems disorders
4. Sensor organs diseases and disorders
5. Psychic and somatic disorders
6. Traumatic, professional and Cancer diseases
7. Ayurveda foundation in yoga therapy
8. Autoimmune diseases
Includes-
Certificate of yoga therapy teacher after successful completion of 800 H Level I+II+III, After Level I – 500 RYT, after Level I + II – Simple Certificate of Yoga Therapist
Theoretical and practical skills in yogic treatment of common diseases.
Mala (string of beads) energised by our Guru Ji Yogachariya Dr. S.K.Pandey, PhD (Yoga & Naturopathy).
accommodation.
Wi-Fi.
3 times of yogic nutrition, beverages.
Study materials.
Cleansing Kit.
Cleansing yoga session
T-shirts (1) with symbolic of school.
excursions in Himalaya.(2 in 200 H & 3 in 300 H )
1 short aura check up.
ayurvedic massages.(2 in 200 H & 3 in 300 H )
Accompanying and supporting during time of staying in the Institute, help provided 24 Hours.
Optional For Moderate Payment:
Pick up and drop.
Other ayurvedic procedures.
Ayurvedic doctor conculatation.
Number of excursions more than mentioned above.
Detailed Aura check-up with providing of written report about Aura statement, disturbances in Aura if they are present, supporting methods and treatment advices of naturopathic specialist (individual plan of asana postures, pranayama, herbs, meditative practice).
Detailed horoscope assessment.
Extra night of accommodation.
Check In : 13:00 Pm | Check Out:12:00 Pm
Time Table For Level I & II 800 Hour Yoga Teacher Training:
| | |
| --- | --- |
| 06:00 – 06:30 | Wake Up And Cleansing |
| 06:30 – 07:00 | Shatkriya and herbal tea (yogic cleansing with Jala neti (special techniques of nose cleansing), pooja (mantra recitation & fire ceremony purification) |
| 07:00 – 08:30 | Yoga Therapy practical class |
| 08:30 – 09:30 | Pranayama: breathing exercises |
| 09:30 – 10:30 | Breakfast: Special Yogic Menu |
| 10:30 – 11:30 | Yoga philosophy/ayurveda/teaching methodology |
| 11:30 – 12:30 | Yoga therapy theory class |
| 13:00 – 14:00 | Lunch |
| 14:00 – 15:00 | Free Time |
| 15:00 – 16:00 | Yoga anatomy/asana alignment |
| 16:00 – 17:30 |  Asana Hatha class |
| 17:30 – 18:30 | Yoga Nidra/ guided Meditation: guided relaxation practice, meditation, and concentration |
| 18:30 – 19:30 | Dinner |
| 19:30 – 22:00 | Free Time |
| 22:00 – 06:00 | Sleep |
Level III Time table will be discussed individually
Assessments:
Give yoga therapy class to your peers under control of teacher, give yoga Therapy sessions.
A written theory test
Short research work in Yoga Therapy
Documented mentor supervised hours of classes and proper documentation of work in case of yoga Therapy practicum on place
Note:- Time table can be changed during to teaching process.
IAYT Competencies Covered
Section 1. Yoga Foundations
Category 1.1. Yoga Teachings and Philosophy
Category 1.2. Yoga and the Mind
Section 2. Biomedical and Psychological Foundations
Category 2.1. Anatomy and Physiology
Category 2.3. Psychology and Mental Health
Category 2.4. Additional Knowledge
Section 3. Yoga Therapy Tools and Therapeutic Skills
Category 3.1. Yoga Therapy Tools
Category 3.2. Basic Principles of the Therapeutic Relationship
Category 3.3. Principles and Skills for Educating Clients/Students
Category 3.4. Principles and Skills for Working with Groups
Section 5. Professional Practice
Category 5.1. Ethical Principles
Category 5.2. Legal, Regulatory, and Business Issues Pertaining to Yoga Therapy
Category 5.4. Personal and Professional Development and Continuing Education
Completion Requirements
Students have demonstrated understanding of course learning objectives by their supervised or internship practicum, 85 % attendance at all lectures, participation in practice teaching & teaching sessions, and completion of written test.