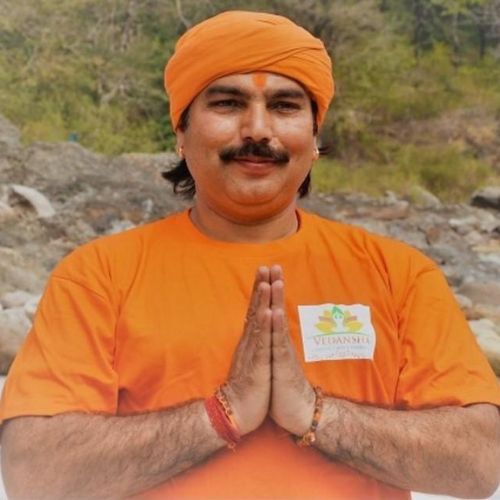 About Dr Sanjeev Pandey Ji (Founder)
---
The founder, Yogachariya Sanjeev Pandey M.sc., Yogic science and human consciousness, doctor in Yoga Therapy and Naturopathy) E-RYT 500, is a himalayan yogi in 7-th generation. He keeps family and university tradition of yoga during his long teaching and perosnal practice. He provides education and supplementary treatment according to the high level of ancient and modern  standard of vedic science.
Period Achievement
1971: Born in Farrukhabad
1979-1990: School in Farrukhabad. his grandfather Sri Dayanand Pandey (also famous Yogi) teached him basic knowledge of hatha yoga, pranayama, astrology, ayurveda, asana, puja and mantra chanting. Because of his grandfather he had opportunity to meet persomally many well-known monks, rishis, yogis (Devi Raha Baba Ji, Swami Satyananda, Baba Neem Karori (Lakshman Das), Swami Nardananda Saraswati, Swami Rama etc.) and get authentic knowledge of vedic science.
1990-1995: University of Lucknow with Diploma of Bachelor of Science (ZBC) in biology.
Since 1995: began his teaching career in yoga in Rishikesh and in fact become one of the famous teachers of Pranayama & Philosophy in Himalaya. He teached in famous schools like Rishikesh School of Yoga and Ayurveda, World peace yoga school, Himalayan Yoga Academy, Swasti Yogshala and continues his activity till nowdays.
1991-2007: improved his practical skills and lerned Sanskrit in Institute for the traditional study of Advaita Vedanta, Sanskrit, Yoga, Ayurveda and Astrology – Adhyatma Vidya Peeth, Gurukulam and in Pilgrim center Ashram Naimisharanya.
From 2008 till 2011: education in Gurukul Mahavidyalaya College Jawalapur, Haridwar and in Uttarakhand Sanskrit University, Haridwar, India, got (Master Degree in Yogic Science and Human Consciousness) and become a Yogachariya.
Since 2011: Yogacharya Pandey Ji established in Rishikesh his own school Vedangas. It was one of the popular Yoga Schools that provided Teacher Training 200, 300, 500 H. Because of his love to science he dicided to take more time to scientific research in Yoga.
2017: Re-organisation of Vedangas & establishment of Vedansha – his own Institute of Vedic Science and Alternative Medicine to share authentic yoga knowledge and provide continuing education in vedic science (Yoga, Ayurveda, Naturopathy, Astrology, Vastu Shastra, Sanskrit).
International experience: has big experience of work in foreign countries and gives many international Workshops in Russia, Poland. He teached in Nepal, Tibet, Thailand, Russia and many other countries. Gave on-line courses as well.
Additional Info: He speaks free Sanskrit, Hindi & English. For selfdevelopment Pandey attend regulary special seminars in Gurukul (Haridwar), Satsangs of famous Spiritual Masters like Swami Guru Sharanananda – Raman Reti Ashram Mathura, Swami Avdeshananda Giri (Haridwar) and continuously visits spiritual places in India, Nepal, Tibet. ''My aim as a yoga teacher to bring student from his present level to desired statement of development in order to connect with himself"