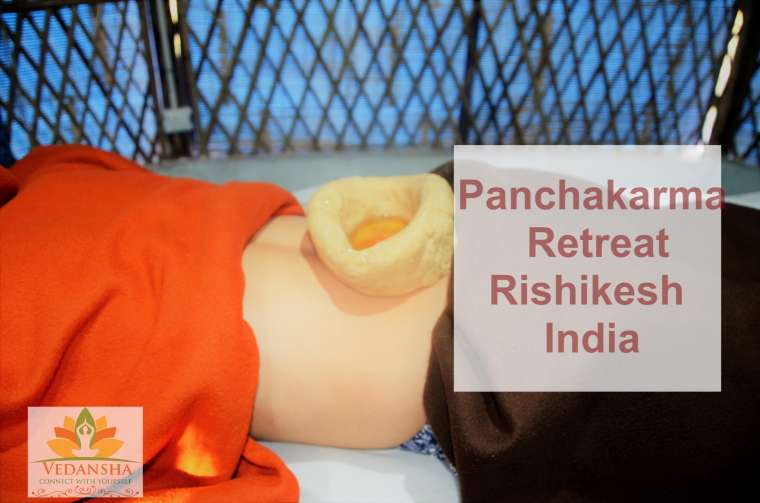 Panchakarma Retreat Program
Panchakarma Retreat Program is a deep ayurvedic purification of the body for balance and harmony. This is a process used to clean the body of toxic materials left by disease and poor nutrition. Panchakarma means (five actions) is a cleansing and rejuvenating program for the body, mind and consciousness. It's known as a deep purification process for health and wellness!
Purpose
Elimination of toxins and wastes.
Helps restore metabolic fire.
Purification of body & mind.
Improvement of immune system and resistance to illness.
Anti-aging effect.
Enhance your strength and mental health.
Every human consists of 5 elements (air, water, space, fire, earth). These 5 elements create our body constitution. According to it every person can be vata, pitta or kapha. Vata means air, pitta – fire, kapha- mucos. Vata responsible for the process of movement in our body (passage of meal), pitta responsible for transformation (methabolism), kapha for oleation. Ayurveda identifies human as healthy when all 3 doshas (vata, pitta & kapha) are in balance.
The aim of Panchakarma – bring all 3 Doshas in harmony.
Panchakarma Consists Of:
orvakarma (preparation) – We use special ayurvedic herbs, massages, steam treatment, diet to make your body free from toxins.
Panchakarma itself – Daily purification techniques in combination with ayurvedic diet and meditation
Paschatkarma (after treatment) – special diet and lifestyle program
Our Program-
Duration

Price

Extra activity*
8 Days/7 Nights

51173 INR (620 USD ) Double Shared Room

56951 INR ( 690 USD)  Private Accommodation

1 Excursion In Himalaya
11 Days/10 Nights

70157 INR (850 USD ) Double Shared Room

74284 INR (900 USD)  Private Room

1 Excursion In Himalaya
15 Days/14 Nights

95743 INR (1160 USD ) Double Shared Room

103997 INR (1260 USD ) In Private Accommodation

2 Excursions In Himalaya
22 Days/21 Nights

140314 INR ( 1700 USD ) Double Shared Room

152695 INR ( 1850 USD ) With Private Accommodation

2 Excursions In Himalaya
31 Days/30 Nights

198090 INR (2400 USD ) Double Shared Room

214598 INR (2600 USD ) With Private Accommodation

3 Excursions In Himalaya
*if you will not be able to participate in the excursion, your fee for excursion will be replaced by present.
Our Panchakarma Retreat Program Includes:
Ayurvedic doctor consultation with pulse, tongue, eyes, hands diagnostic.
Individual panchakarma plan in written form.
Individual lifestyle & meal recommendations.
Daily Ayurvedic treatment.
Daily evaluation & follow up.
3 time Special ayurvedic menu.
Special detox beverages.
Daily treatment package.
Yoga Philosophy & meditation classes (by wish – can/should be kept during deep purification days after doctor assessment).
Excursion(s) in Himalaya.
1 T-shirt with the school symbol.
Accommodation.
Cleansing kit.
Mala string of beads energized by Yogachariya Dr. S.K.Pandey-Ji.
Accompanying and supporting during time of staying in the Institute, help provided 24 Hours.
Optional For Extra Payment:
Extra days of staying.
Additional activities.
Airport transfer.
Other Spa treatments.
Extra yoga classes.
Detailed Aura check-up with providing of written report about Aura statement, disturbances in Aura if they are present, supporting methods and treatment advises of naturopathic specialist (individual plan of asana postures, pranayama, herbs, meditative practice).
Full astrological consultation with detailed explanation of planet position, disturbances, methods of correction, suggestions in career, family life, marriage, prevention of diseases.
Panchakarma Retreat Program
Panchakarma starts with consulation of high qualified ayurvedic physician (BMS). Doctor will determine body constitution, disease structure, health state, pulse, tongue, eyes, hands diagnostic and suitable method of detox therapy. Every day you will get particular ayurvedic treatment.
Generally Panchakarma consists of 3 parts. Every client according to health conditions & present disease may get different types of treatment.
Poorvakarma – Preparation (Amount Of Days Depends On Your Package):
Special mixed of cleansing herbs.
Special detox beverages.
Daily ayurvedic full body massage with sweshana (steam bath).
Panchakarma Itself (Amount Of Days Depends On Your Package):
Vamana (medicated and controlled emesis with ayrvedic decoctions).
Virechana (medicated and controlled purgation).
Basti (medicated herbal enema).
Shirodhara ( oil head treatment).
Udvartana, Potali, Pizhil – Specilal ayurvedic whole body massage (different from preparation period).
Kati & Manya basti, Shirobasti, Akshi Tarpanam, karna purna- Special local therapy with warm oil ( if indicated ).
Nasya – oleation of nasal cavity for respiratory tract treatment.
Special ayurvedic menu & beverages.
Paschatkarma – Rejuvenation & After Panchakarma Treatment (Amount Of Days Depends On Your Package):
Special ayurvedic herbs.
Medicated juices.
Special extanded ayurvedic menu.
Following Needs To Be Avoided During Panchakarma:
posure to high/low temperatures, both internally and externally.
Stress.
Rest when tired.
Suppression of natural urges such as sneezing, coughing, micturition, bowel movements etc.
Go sleep late night.
Indigestible food.
Time Table
| | |
| --- | --- |
| 06:30 – 07:00 | Shatkriya And Herbal Tea (Yogic Cleansing With Jala Neti (Special Techniques Of Nose Cleansing). |
| 07:00 – 08:00 | Pranayama (Breathing Exercises) |
| 08:00 – 09:30 | Asana Hatha Yoga |
| 09:30 – 10:30 | Breakfast: Special Ayurvedic Menu. |
| 0:30 – 11:30 | Therapy Time |
| 11:30 – 12:30 | Therapy Time. |
| 13:00 – 14:00 | Lunch. |
| 14:00 – 15:00 | Yoga Philosophy |
| 15:00 – 17:00 | Sleep/Therapy Time. |
| 17:30 – 18:30 | Yoga Nidra/ Guided Meditation: Guided Relaxation Practice, Meditation And Concentration. |
| 18:30 – 19:30 | Dinner. |
| 19:30 – 22:00 | Free Time.. |
| 22:00 – 06:00 | Sleep. |
Asana:
Natural Relaxation Asana, some stratching Asana
Meditation Asanas
Forward bending Asana.
Backward Extensions.
Spinal Twisting Asana.
Inverted Asana.
Balancing Asana.
Surya-Namaskara.
Thunder-Bolt (vajrasana) Group Asana.
Lotus (Padmasana) Group Asana.
Pranayama & Mudras:
Introduction to Pranayama.
Basic Pranayama Techniques & Benefits for Mediatation (Neti, Kapalabhati, Nadi Shodana).
The pranic body.
Parana and lifestyle.
Nadi and their role in Meditation.
Breathing and life span.
Kriyas (Body Cleansing Methods): (Neti, Kapalabhati, Nadi Shodhana).
Mantra In Ayurveda
Mantras with correct pronunciation, writing, explanation and their practical applying in Ayurvedic healing.
Mantra before starting the treatment. Purification mantras, energizing and balancing mantras
Yoga-Philosophical Aspects:
Human Life: Meaning & Aim of Life.
Yoga- Introduction / it's origin & development.
Introduction of Patanjali's Yoga-Sutra.
Panch-Klesha (Five Causes Of Pain & Miseries) / causes of succsess and failure in Yoga.
Yama, Niyama (social and personal rules and regulations) Asana (physical posture), Pranayama (breathing techniques), Pratyahara (withdrawal of the mind from the senses), Dharna (concentration), Dhayan (meditation), Samadhi (self-realization).
9 Disurbances of Mind, cause of pain, possibilities of control the mind.
Yoga and purification techniques.
Concept of yogic, ayurvedic and vegetarian nutrition.
Concept of 3 Dosha (vata, pitta, kapha), how to balance dosha.
Explanation of taste, how to correct your nutrition plan according to season and daily regime.
Digestive fire and their role in correct nutrition.
Purvakarma and their role in detox therapy.
Panchakarma (how, for whom, when?).
Meditation:
Standard Meditation Practice, meditative practice for purification of the body.
Mantra:
Mantras, Hindu Gods, mantras related with them, mantra for pooja.