Weight Loss Yoga, Ayurveda & Natrupathy Retreat
``The mind, the soul, and the body are the three pillars on which not only the human race but the existence of the world is hinged on.`` -Charak
Being overweight considered nowadays as negative sign. People with obesity can not find good job, get problems in social communication and adaptation. And at least they face the health issues. Why we need to take care about our weight and is there any real holistic way for that. Answer is yes. Traditional Indian yogic and ayurvedic school of healthy lifestyle offered variety of detox and well being ways.
We start retreat with check up of aura and body fat/muscles ratio. It will help us to understand on which problems of physical and energy body we have to focus. You will get individual detox meal plan, herbal medicated juices, fruit juices, special ayurvedic procedures and yoga classes. We are not going to treat your physical body only. We will work on your energy field as well.
Weight Loss Yoga, Ayurveda & Naturopathy retreat is beneficial
by desire of weight loss
by indigestion
by constipation
by associated High Blood pressure
if you wish to learn how to implement healthy well being in daily routine
Starts every day all year around except weekends!
Duration

Hydrocolontherapy

Excursion

Massage & steam

Price

11 days/10 nights
1
1
3

53778 INR (650 USD) shared twin

66188 INR (800 USD) with private accommodation 

15 days/14 nights
2
1
5

71980 INR (870 USD) shared twin accommodation

78599 INR (950 USD)  private accommodation

22 days/21 nights
2
1
3

105902 INR (1280 USD ) shared twin accommodation

150579 INR (1525 USD) with private accommodation

31 days/30 nights
3
3
6

144179 INR (1820 USD) shared twin accommodation

182019 INR (2200  USD) with private accommodation

you can choose amount of days yourself

Price depends on days amount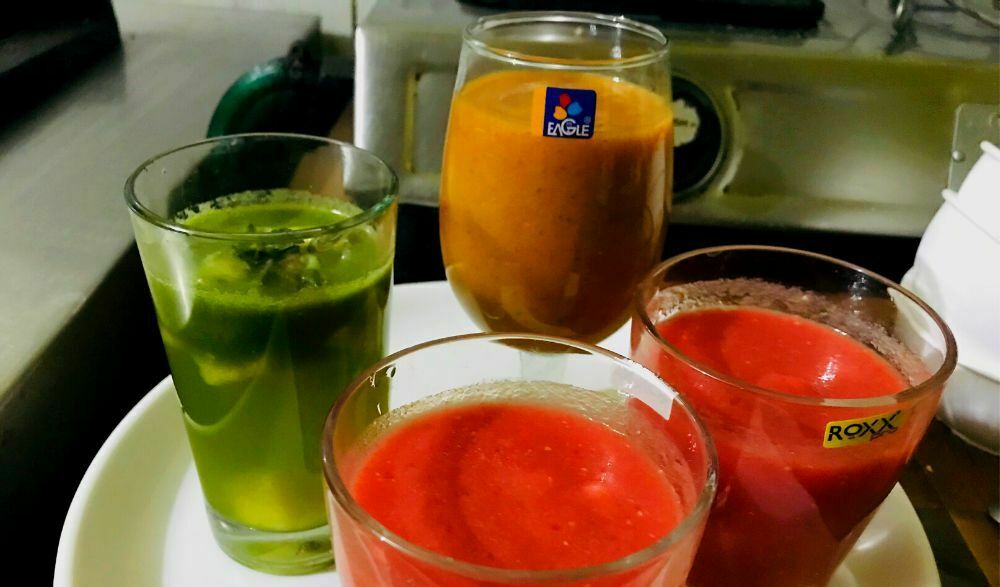 Highlights:
Yoga package
Health and body check up consultation.
Individual detox and weight loss program.
Herbal treatment and juices
Ayurvedic package
Steam therapy
Hydrocolontherapy
Included:
2 brief aura check ups.
Excursions depends on number of program days (see above)
1 T-shirt with the school symbol
3 daily vegetarian meals.
Ayurvedic massages & steam(amount depends on days of retreat – 3 (11d), 4 (15d), 5 (22d), 6 (31d)
Hydrocolontherapy (amount see above)
Herbal & Fruit Juices (amount depends on days of retreat – 9 (11d), 13 (15d), 10 (22d), 29 (31d)
Accommodation
Excursion in Himalaya (amount depends on days of retreat – 1 (11d), 1 (15d), 2 (22d), 3 (31d)
Cleansing kit.
Daily detox tea.
Daily practical & theoretical yoga classes
Mala string of beads energized by Yogachariya Dr. S.K.Pandey-Ji
Study materials
Herbs suggestions for well-being
Accompanying and supporting during time of staying in the Institute, help provided 24 Hours
Optional for extra payment:
Extra days of accommodation.
Additional activities.
Airport transfer.
Ayurvedic procedures and consultation more then mentioned above
Detailed Aura check-up with providing of written report about Aura statement, disturbances in Aura if they are present, supporting methods and treatment advises of naturopathic specialist (individual plan of asana postures, pranayama, herbs, meditative practice).
Full astrological consultation with detailed explanation of planet position, disturbances, methods of correction, suggestions in career, family life, marriage, prevention of diseases.
| | |
| --- | --- |
| 06:00 – 06:30 | Wake Up And Cleansing. |
| 06:30 – 07:00 | Shatkriya and herbal tea (yogic cleansing with Jala neti (special techniques of nose cleansing) |
| 07:00 – 08:15 | Yoga therapy session |
| 08:30 – 09:30 | Pranayama: breathing exercises. |
| 09:30 – 10:30 | Breakfast: special yogic menu. |
| 10:30 – 11:30 | Yoga philosophy/ayurveda. |
| 11:30 – 12:30 | Free time/therapy time. |
| 13:00 – 14:00 | Lunch |
| 14:00 – 16:00 | Free time/therapy time. |
| 16:00 – 17:30 | Ashtanga Vinyasa/Hatha Yoga (theory & practice): number of physical postures according to study program. |
| 17:30 – 18:30 | Yoga Nidra/ guided Meditation: guided relaxation practice, meditation and concentration. |
| 18:30 – 19:30 | Dinner. |
| 19:30 – 22:00 | Free Time. |
| 22:00 – 06:00 | Sleep. |
Note:-Time table can be changed during to teaching process.
Teaching Plan
Yoga practical aspects:
Asana (beginner, intermediate and advanced level):
Extra days of accommodation.
Natural Relaxation Asana.
Natural standing Asana with External Rotations.
Forward bending Asana.
Backward Extensions.
Spinal Twisting Asana.
Inverted Asana.
Balancing Asana.
Surya-Namaskara.
Meditation Asana.
Thunder-Bolt (vajrasana) Group Asana.
Lotus (Padmasana) Group Asana.
Prenatal Yoga-Asana Practical Aspects
Asana special adapted for conception and pregnancy preparation
Bending postures
Relaxation poses
Standing Postures
Sitting postures
Supine postures
Stretch postures
Surya-Namaskar
Meditation Asanas
Pranayama & Mudras:
Introduction to Pranayama.
Basic Pranayama Techniques & Benefits (Abdominal breathing, Preparational breathing, Kapalabhati, Nadi Shodana with/without retention, Ujjayi breathing, Bramari, Bhastrika, Shitali, Shitkari, Surya Bheda & Chandra Bheda, Ujja).
The pranic body.
Parana and lifestyle.
Breathe, health and pranayama.
Breathing and life span.
Sitting Positions for Pranayama
Kriyas (Body Cleansing Methods): (Neti, Kapalabhati, Trataka, Shanka Prakshalana)
What is mudra and bandha
What is Ashwini Mudra, its role in energy body
Dyana, Ajali, Prithvi, Varuna, Shakti, Gyana, Chin, Shambhavi, Khechari Mudra, Hansi mudra, Vayu mudra, akash Mudra, Shunya Mudra, Surya mudra, Jalodarnashak mudra, Apan mudra, Pran Mudra, shankh mudra, Apan Vayu Mudra, Ling Mudra, Dhyan Mudra, Lotus Mudra)
Moola, Uddyana Bandha, Jalandra
Shatkarma (concept, aim, safety, performance)
Obstacles in Pranayama practice
Meditation
Standard Meditation Practice (Om Meditation, Trataka, Yoga Nidra, Sound meditation, Mantra meditation, Nadis Meditation, 5 elements meditation, Breath meditation, Hamso meditation, Ajapa/japa, Ida/Pingala spinal rotation, Hridayakasha Dharana, Panchaprana Dharana, Pranava Dhyana)
Visualisation & concentration
Obstacles in meditation
Concept of meditation Step by step
Postures for meditation practice
How to integrate meditation in yoga class?
How to choose object for meditation?
Mantra
Standard Mantras (Guru, Ganesh Mantra, Shakti Mantra, Gayatri Mantra, Shanti Mantra, Shiva Mantra, 5 elements mantra, So Ham, AUM, Lakshmi Mantra, Vishnu Mantra, Mantra for health, business, children)
Yoga therapy/Ayurveda
Using of number of yogic/ayurvedic methods in supporting and treatment of some diseases
What is ayurveda
Concept of 3 Dosha
How to identify the dosha
6 tastes and their function for balance of body and mind